From day one, Viking Bags envisioned every bag they would build to be an extension of the bike itself.  Those bags should hold true to the very values that riders wanted in the bikes themselves – functional, durable, and, yes, even beautiful.  The Viking philosophy was simple and radical – build bags inside out.  The fiberglass shell first, and then wrap that in the best quality weatherproof leather.  The result?  A bag that could be mounted on a bike and never have to take back off.
In the end, Viking Bags' gamble paid off – people loved the ideas and they loved the quality.  They asked for more.  The next challenge was how to make these beautiful and durable bags lockable.  Sure, Viking could have taken the easy path and simply added hanging padlocks like everyone else, but instead, they chose to rethink designs and start from scratch.  In the end, their answer to the locking problem was an ergonomic, key locked system that blending in seamlessly with their designs and visions.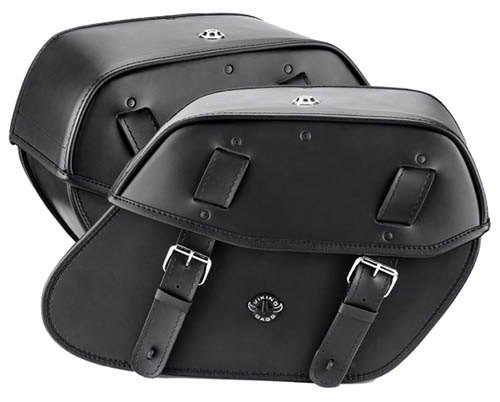 As their ideas continued to upset the industry, Viking Bags looked at how bags were mounted.  Traditionally, motorcycle bags of all kinds required far too much effort to mount on any given bike.  Viking's answer was to spend hundreds of hours designing specific mounting solutions for every bike.  All that time speaks for itself, with Viking offering one of the most extensive custom mounting options for nearly any bag and nearly any production bike.
The story of Viking Bags is the story of doing the hard things for the right reasons, and their customers responding to that exceptional quality.