Now that many of us have our bikes put away for the winter and might be deep into projects for those same bikes, it's a good time to talk about some maintenance items that you probably don't think about.
Spark plugs.
Sure, a lot of riders don't even think about them – they'll leave their bike at the Stealership and hope they change them out when the manual says to do so.  There's a lot of reasons that isn't the best idea, least of all, that changing out plugs might be the easiest thing you can do with a bike and a ratchet.  Now, this isn't a "how-to" on plugs, but rather, a "what-to" on the options we've got know that we didn't use to.
For starters, let's talk about the spark plug gap.  If you've got a hotter-than-factory ignition, you can run a little more gap than stock.  Here's a hint, though – gap is set at the factory when the plug is built.  Yes, I'm aware that you can tweak the gap by a few thousandths if you need to, but the actual bend in the plug is virtually always going to be the shortest distance (and the preset gap) between it and the electrode, so guess what?  You're not increasing the gap.  Buy the plug with the gap you need and then, just ensure that the gap is correct before you install it.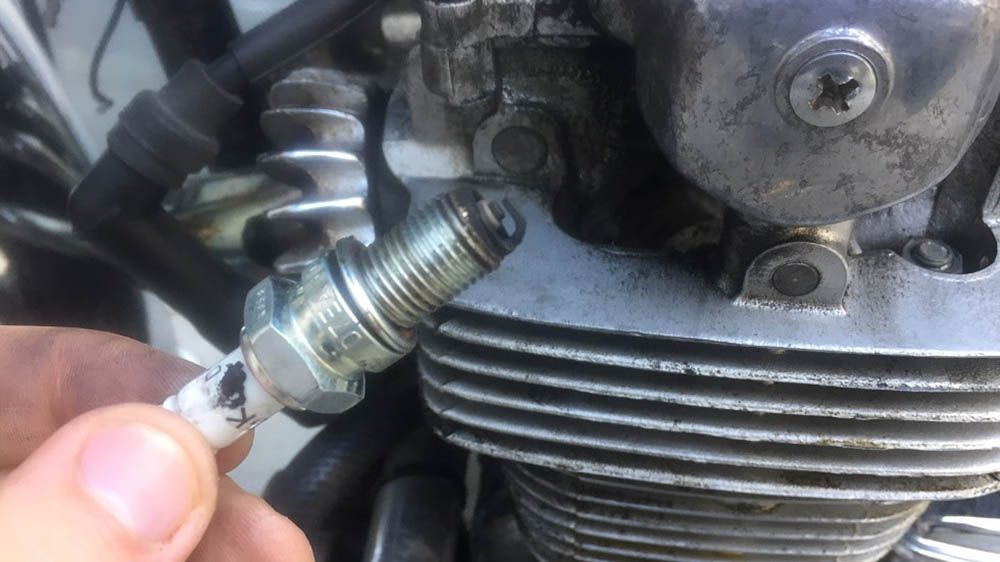 Plugs are designed for specific temperature ranges.  Now, a lot of debate has centered on the "heat range" rating of plugs.  The simple fact is that the heat range doesn't indicate when the plug fires or the heat of the spark – it indicates the range of temperature in which the plug works best.  If you're running in hot summer temperatures in south Florida, a different range might improve performance versus a rider out for an early spring jaunt on the Canadian prairie Provinces.  At the same time, it sometimes does help to experiment with different plug heat ranges to see if they have an impact on performance or economy.  Years ago, I built a Chrysler Slant-6 engine for a bracket racer, and since we had cobbled together a forced induction system on the top of that motor, we found cooler running plugs resulted in better ignition and lower E.T.s.
No conversation about spark plugs is complete without addressing the exotic materials and "split fire" types of plugs.  To me, they are just so much marketing hoopla.  Yes, platinum tipped plugs can result in an arbitrarily "hotter" spark, but do you have the air and fuel to use them?  Just as importantly, if you are still running a stock ignition, the electrical output through the plug may not be "hot" enough to improve anything, despite you paying 3x as much for a plug.
Plugs with split tops, to me, are nearly useless.  In most ignitions, you only get one spark pulse, so you only get one spark, right?  Why would you need two tips?  In theory, of course, if one somehow got fouled, yes, the arc could jump to the next tip, but if one tip is fouled, the other one, less than a millimeter away, is just as bad.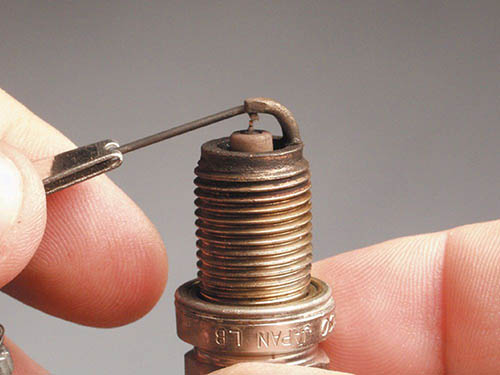 Do yourself a favor, unless you're running a much hotter ignition, bigger wires, and timing that can take advantage of that hotter spark, you're best bet is to change your plugs more often, make sure that you run your bike at operating temperature for at least twenty minutes (this helps to keep carbon build up to a minimum and ensures that "clean" air-fuel mixtures – not too rich, as in a cold-start scenario) to scavenge the ignition chamber of carbon build up, and make sure you are running high quality gasoline in your tank.
Save the twenty bucks that fancy plugs will set you back and put that money into real go-fast stuff.  No plug is going to make your beater into a beast, but a quality plug recommended by the manufacturer for your bike will do a great job of keeping you on the road.