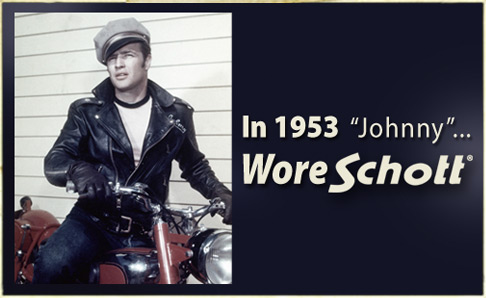 It doesn't get much more American than Schott NYC leather motorcycle gear. For more than a hundred years, this family-run business—and yes, it is still run by a fourth generation of Schotts—have been at the head of producing classic Americana leather motorcycle gear unlike any other. They are the litmus test against which all other leather motorcycle gear is and should be tested. Based in New York City, in a historic and classically American brick building, every piece that they produce is sewn by hand by skilled craftsman to create that perfect "bad boy," look. The leather, hardware, and accents are all carefully chosen to ensure the highest quality USA made leather motorcycle gear.
This family-owned company is truly one of the best when it comes to producing authentic, handmade, quality motorcycle gear that performs as well as it looks. Whether the biker wants something classic, something cool and comfortable, or something modern and edgy, Schott is the ideal brand to purchase from.
From very modern motorcycle jackets to very classic bomber jackets, Schott NYC is the be-all, end-all when it comes to classic American motorcycle gear. Their gear embodies the freedom of the open road and the last hundred years of motorcycle history, encompassing both military-inspired gear and the jackets, pants, and gear that are iconic to the American rebel biker.