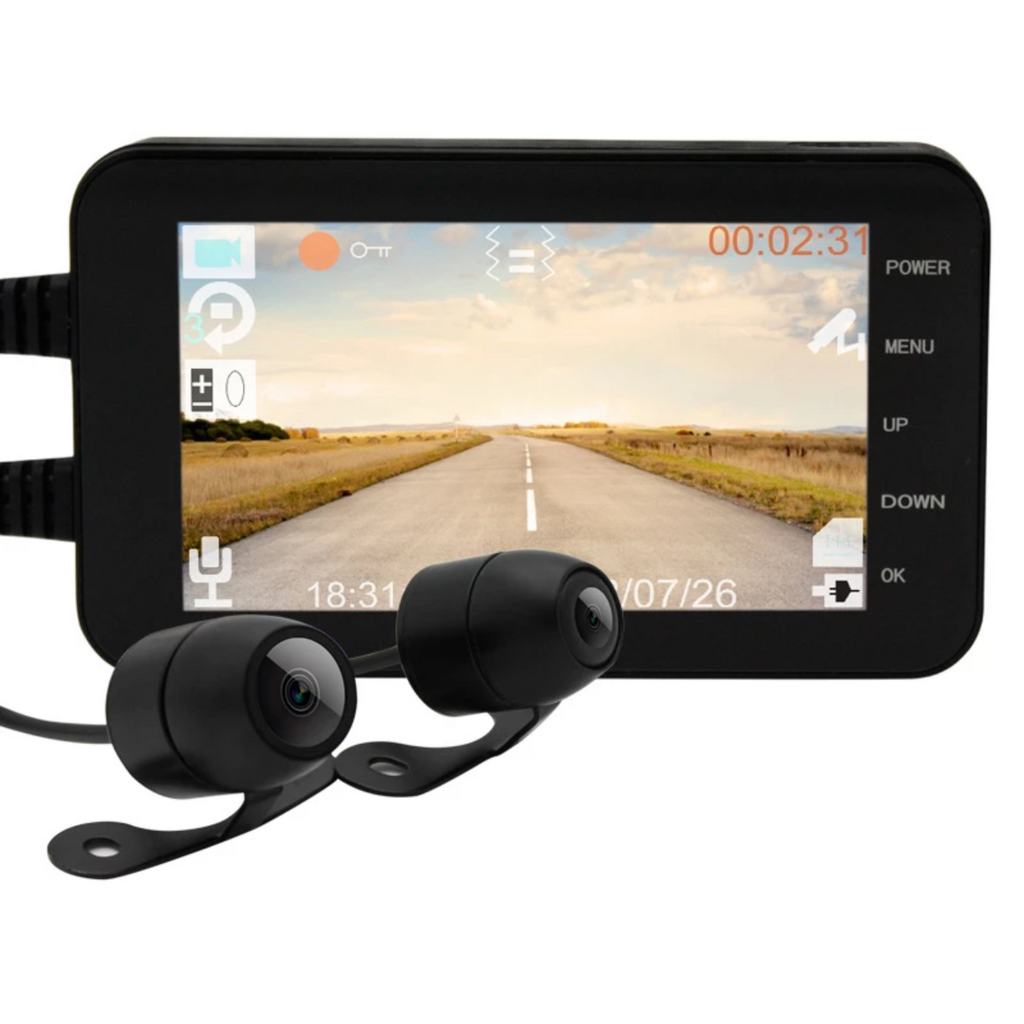 Motorcycle Black Dual Lens Dash Cam Video Recorder 4 Inch HD 1080P
as of December 5, 2023 10:39 am
55% off Today on the release of our new design for launch week only.
This Motorcycle Black Dual Lens Dash Cam Video Recorder is designed for all types of motorcycles, quads, dirt bikes, UTVs, and ATVs. Its simplistic and effective design is easily its strongest selling point making it the hot...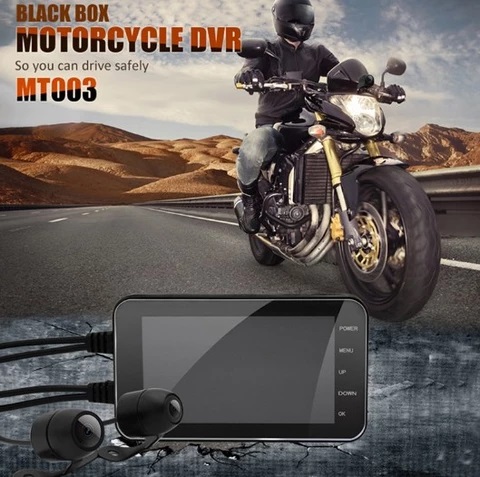 Let's be honest – the fact you are sitting on a bike makes you a target, no matter how safely you ride.  Whether through ignorance, hatred, or simply not paying attention, too many motorcyclists find themselves involved in incidents on the road or in the parking lot.  The result, when law enforcement finally can get involved is usually "he said, she said" and instead of a dangerous driver being taken away in handcuffs since there is no evidence, now, you can have it.
Yes.  The Bikers' Den has a dash cam for your bike.  Even better?  Our dash cam offers a split screen, to record what's going on in front of AND behind you.
So what makes this one so special?   Simple – it was designed from the ground up as a motorcycle dash cam with an eye for weather protection, design, and camera quality and storage capacity.  We've also made sure that features such as size of display, viewing angle and automatic recording and saving are also perfect for use on your bike.
Motorcycle Dash Cam Features:

✔ Water-resistant

✔ A 4 inch LCD HD screen display

✔ 4 screen settings: Front Lens, Rear Lens, Double Recording Split Screen and Overlapping Screen

✔ Features dual lens technology

✔ 140° wide angle for a large view to capture more of what's important

✔ Automatic recording and saving

✔ Cam body IP65 against water and dust, and the front and rear lenses are rated at IP67

✔ Can run off the standard 12V electrical systems on the bike

✔ Power access is obtained mainly from motorcycle

✔ All you'll need is an SD card!
Camera Specifications:

Operating system: Windows XP/7/8/10
Chipset: 1080P
Sensors: Coms image sensor
Display: 4-inch screen full HD LCD display
Lens angle of view: 140 degrees wide angle
Video playback: VGA/MOV
Photograph: jpeg
Video capture: 1920 x 1080p (front), 1280 x 720 (rear)
Recording function: Support separate recording, MP3 audio format
Storage capacity: can support 8G, 16G, 32G
Dual lens video: Support
Boot automatic video: Support
GPRS: Support (optional)
Transmission type: MINI USB 2.0 wired transmission
Motion detection: Yes
Working environment temperature: 0 ° C to 70 ° C
Power supply: DC 12V/1A