HOMMIESAFE Air Motorcycle Seat Cushion Water Fillable Cooling Down Seat Pad,Pressure Relief Ride Motorcycle Air Cushion Large for Cruiser Touring Saddles (Black)
as of May 15, 2021 3:14 pm ⓘ
Features
[WHAT YOU NEED]: The requirements for the motorcycle cushion pads are higher especially for long-distance cycling and professional riders. Because the road conditions of cross-country vehicles are mostly rugged mountain roads, undulating roads or filled with various obstacles designed by professional venues. To ensure a more flexible and comfortable to drive, a new material airbag cushion becomes necessary.
[PRESSURE RELIEF]: Our ergonomic motorcycle seat cushion uses a mosaic of small cushions that can be filled with either air or water. The air convection technology produced and anti-gravity effect which offers support for your spine, thigh and hip.To achieve the effect of shock absorption and stress relief.
[COOL DOWN TECHNOLOGY]: With shallow groove design, you will stay cool even you have been sedentary.The 3D airbag gap can achieve excellent ventilation effect, so the cushion is comfortable and not sticky. This structure reduces the heat transfer between the legs, the buttocks and the seat, so that the purpose of cooling can be achieved. In addition, by adding water to the motorcycle pad cushion, it will also help you cool down and dispense heat.
[PREMIUM MATERIAL]: Lycra diving elastic fabric feels delicate and soft, greatly improves the feel of the cushion and the recovery of crease. It's of high rebound, no deformation and can be repeatedly washed. And TPU fabric has outstanding load-bearing capacity, impact resistance as well as shock absorption.
[SUPER PRACTICAL]: To make the motorcycle seat cushion stay where you want, we used anti-skid particles and double-bandage fixation. The bandages adopt a cross-wrapping method to take care of the shape of the seat, which makes the seat fit the seat cushion better. The bottom of the air motorcycle cushion is also designed with unique anti-slip particles. More restraint and stable.
No matter what type of bike you're riding, the only real point of contact you have with that bike is – you guessed it – your butt.  Ever since the first bike was designed, manufacturers and tinkerers have been trying to figure out how to make seats more comfortable.
Sometimes, they've done a pretty good job.  Sometimes, they miss the mark.  And sometimes, riders are willing to give up some comfort so they can achieve "the look" they want.
There's just no way, for example, to make a 50-era Panhead seat into anything besides what it is.
On the other end of the spectrum is the undeniable fact that motorcycle seats are exposed to every element possible, from sun and ultraviolet rays to pollen and sweat.  Try as we might, all of these have come to mean that durability is just as important as comfort when it comes to building a seat for a factory motorcycle.
But it's 2019!  We've put man on the moon!  We have electric cars!  Why are we still settling for seats made the same way they always have been?
The truth is, you don't have to.  For years, enterprising companies have been creating more comfortable motorcycle seat cushions – both as replacements and as add-ons – for bikes.  The problem with most of these is twofold – they look terrible and they cost too much.
That's one of the reasons the Hommiesafe Inflatable Seat Cushion was dreamed up.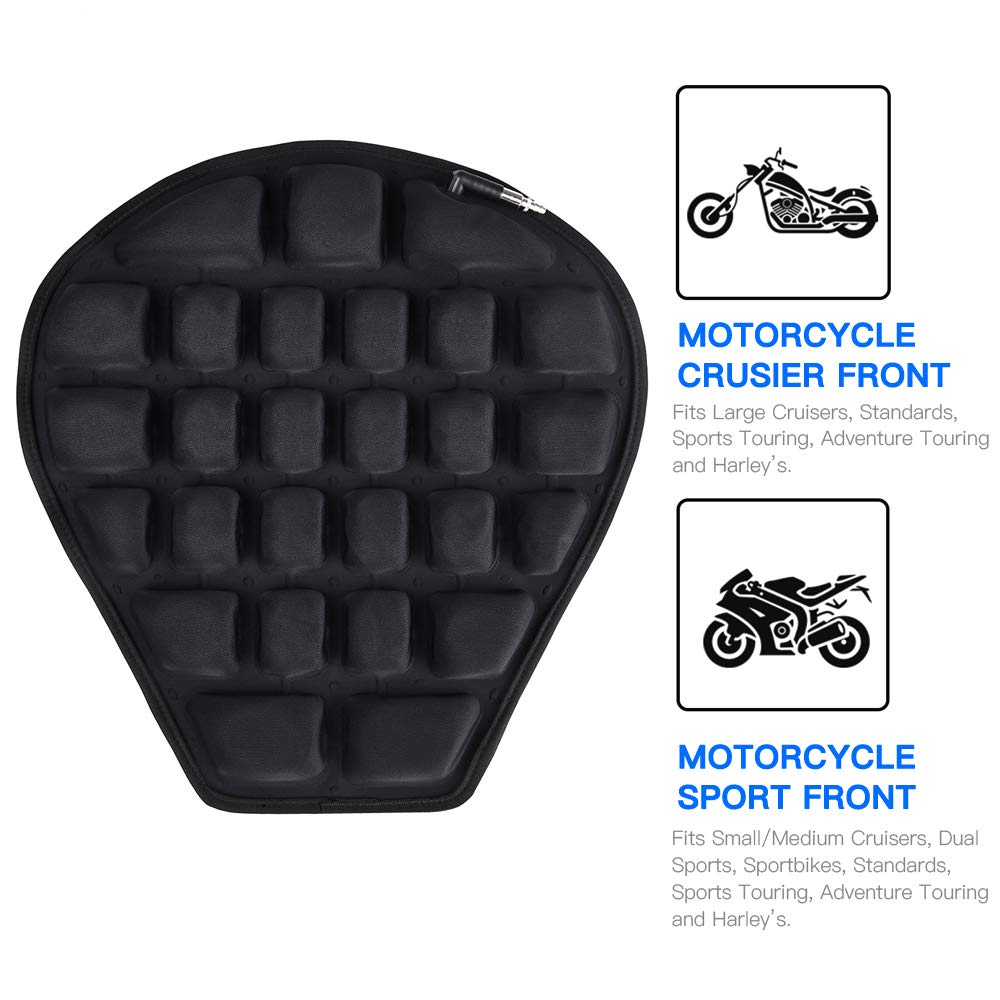 The idea is simple and definitely NOT new, but like all great ideas, the Hommiesafe turned an old idea into a far better one.  Instead of simply allowing riders to fill a cushion with air and ride off, Hommiesafe gives riders the option of filling the seat cushion with water, too.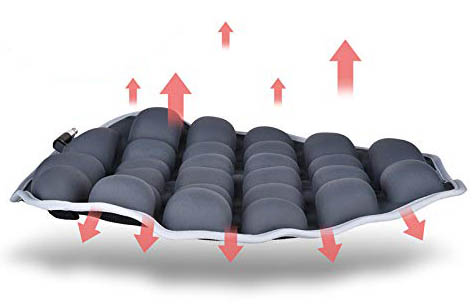 Think of it as a "ride-on" air conditioning for those hot days in the saddle.  Fill up the Hommiesafe tonight, place it in the fridge, and tomorrow, strap it on your seat and ride cooler.  Before you do that, though, let's talk about why Hommiesafe is not only different than other seat cushions, but why it's so much better…
It looks great. Yeah, this might seem to be a very subjective reason, but the truth is, many of the add-on cushions available to riders look like something Great-Grandpa has on his wheelchair.  Hommiesafe has a unique look that gives off a custom seat vibe.
It rides great. It's true!  Whether you fill Hommiesafe with water or air, you get a truly comfortable ride – in fact, most users report the highest level of comfort when they only inflate (or fill) Hommiesafe to about half capacity.  Mile after mile, you have a cool, comfortable ride.
Hommiesafe stays where you put it. Many, if not all, of the add-on cushions do one of two things – either flop around or require straps and tie downs that look less than appealing.  While Hommiesafe does come with retaining straps, many of our customers report they don't use them – the cushion stays where they put it and won't move around.
Hommiesafe is a fraction of the cost of the competition. Simple as that.  With many aftermarket cushions over $100, Hommiesafe is one third the price and three times the comfort.  Why waste money on a product you aren't going to like?  It's one of the main reason Hommiesafe is so popular with bikers, even though its new to the market.
No matter what you ride, if you're tired of feeling like you've been riding a board for hours, check out Hommiesafe – it's comfortable, economic, and offers multiple ways to avoid butt fatigue on any ride and any bike!