Last month, a buddy of mine asked me about a set of heads I had tucked away for a rainy day project, and as I dug around the top shelf in the barn, I found the reminder of why I don't do leather work.
A seat for a 1988 or so Softail I'd tried to do on the cheap a dozen or more years ago.
Here's what I learned from that train wreck:  leather work, especially with upholstery, is a lot like cutting hair… a lot damn harder than it looks.
The problem with upholstery, especially in bike seats, is the experts make it look so easy.  I mean, we can put on a set of heads, or fix a dent in a gas tank, why couldn't we just whammy up a seat, right?  Look at the YouTube guys who knock it out in a half hour video!
Yeah.  That was the plan and the rationale, but it didn't work out like that.
Sewing up a seat is an expert's game, just like porting heads, or balancing an engine.  It requires specialized equipment – a commercial, heavy duty machine to actually do the sewing, and it requires that person to have spent a little time learning how to run that machine.
Yeah, it might be fun to learn, but you're not going to do it the first time.
…And man, I tried every workaround and hack I could, and the seat looked like crap.
I was just fixing the bike to resell, so I slapped on a cheap vinyl cover and sent it down the road and vowed to never try to DIY a seat again.
All that came back to me as I was rooting around for those heads, and the irony, of course, is that Bikers' Den just introduced a whole catalog of new seats, sissy bar pads, and backrests.
High quality stuff.
Stuff that will make your butt and your back feel better on the scoot.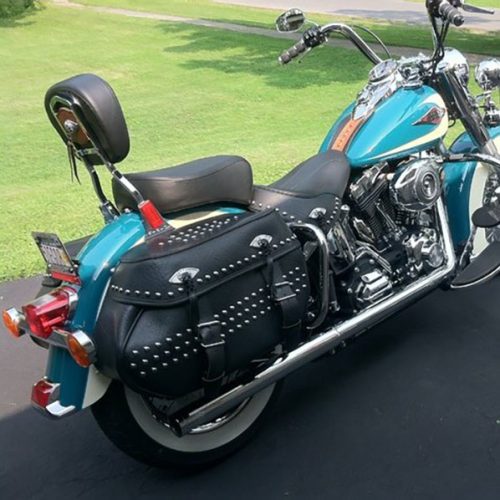 Stuff that looks great, unlike that garbage I tried to sew up on that Softail.
Now, maybe you're thinking, "Man, I don't ride that much, all I need is that "el-cheapo" unit I can buy online."
And that's where you're wrong.  Take it from the guy who knows, that overseas stuff you can buy for $70?  That foam breaks down worse than a BMW, and when you add in the UV radiation from being outside?
I've had guys tell me those cheap seats haven't made it through a season before the foam was shot and the corners were starting to fail.  Why even bother with garbage?  You can buy cheap a few times, but in the end?  You're STILL going to end up buying a higher quality unit, so why not invest in the good stuff now and save the aggravation later?
Check out the new motorcycle seats and sissy bar pads/backrests the team put together.  You'll have a seat or a backrest that will last far longer, be more comfortable, and look great.  More importantly?  You won't have to deal with the steep learning curve that the DIY crowd has to suffer through – or waste a weekend making something that you never want to use on your bike!
Keep the shiny side up…