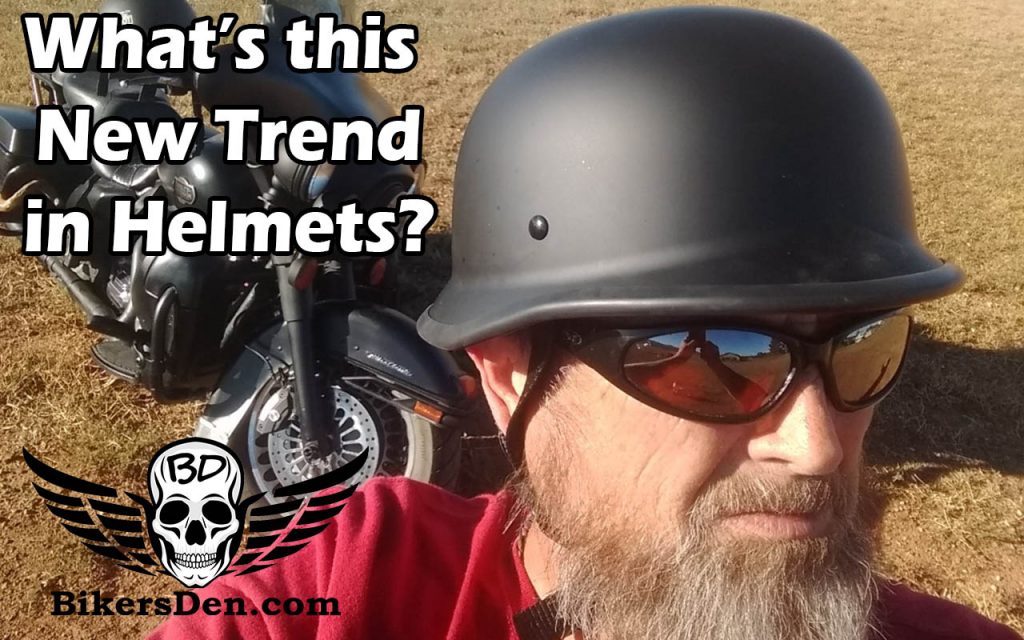 Editor's Note: During the writing of this article , "Wolf" – our resident blog author – didn't realize we've also seen this newest trend in German style helmets, so check out the New Mayans Germanator Beanie Helmet we began promoting on our site. Keep the shiny side up!
Two weeks ago, I was drinking coffee in a truck stop in Jackson, Mississippi and noticed a couple other riders coming in.  In the casual way of all bikers, we all looked at one another, nodded, and went on about our business.  I knew they'd seen my scoot when they parked and as I walked out, I had to check theirs out.
Nice looking Road King and a 'Glide, but what caught my eye was the helmets.
I've been tuned into those since I had to do some studying on them for last month's posts, so I find myself looking for novelties, SNELL stickers, and the usual DOT tag.
These were beanies, but they had a little extra … something.  I couldn't place it, but it was there.  I pointed my bike towards home and didn't think much more about it, as the clouds were starting to stack up to the west and I was 300 miles from my garage.
Three nights later, I was watching, of all things, Saving Private Ryan, and it dawned on me – the dudes I'd seen in Mississippi had helmets with the whole "German" beanie theme going on.
Now, we all know that motorcycles and the gear we wear on them goes in and out of fashion on a cycle, so to speak.  Look at the helmets we wore thirty years ago and you know exactly what I mean.  I'd say the only reason Harley riders have been wearing the same stuff for so long is because of a few movies (not Saving Private Ryan, by the way) and the fact there are so many old guys who got started riding later in life, when Harleys got popular again 35 years ago.
Still, we catch a few trends from time to time.
Over the last decade, Sons of Anarchy did push our ideas about how bikes and bikers can dress, and fabrics have made inroads into leather's reign, but for the most part, the cruiser crowd stays pretty bland.
Black leather, beanie helmet, sunglasses, Engineer boots, wallet on a chain … you get the idea.
So I kinda liked the idea of the German motorcycle helmet and the logical side of me realized it might even be more useful.  That little rolled "lip" on the side might cut down glare.  Might act like a sort of "wing" to keep helmet lift at speed down.
I don't know, but I'd kinda like to see if it was the case.  Like everybody these days, I turned to Google to see if it was a trend among helmet manufacturers and, sure enough, it is.  Looks like it started with the Mayans from SOA, but it must be catching on.
Since that truck stop in Jackson, I see more and more guys wearing them – and these aren't waxers on barhoppers, they're guys putting in miles.
So here's the deal:  If you're wearing one, pop a comment in the section below and let me know what you think of them.  Any noticeable difference?  Comfort?  Lift?  Mushroom head?  My beanie is getting a little old since I replaced it and might be in the market for a new lid, so rather than get just one or two opinions on German-styled helmets, I'd like to hear your own personal thoughts on them.