Leather is a very unique material with a long tradition of use in fashion and clothing. Today leather vests and different leather products are almost always made from animal hides.  In most apparel for men, leather vests will be one of the most robust items in their wardrobe, making it important to choose the right leather vest size.  You can buy leather vest for men in a variety of sizes and leather types, such as cowhide leather vests, lambskin leather vests, or even synthetic leather.
This article will show you how to pick the right leather vest size for your body shape and what leather type is best suited for your needs.  If you are unsure about your leather vest size, you can always use the size chart below to find the right size for you.
How to Choose the Right Leather Vest Size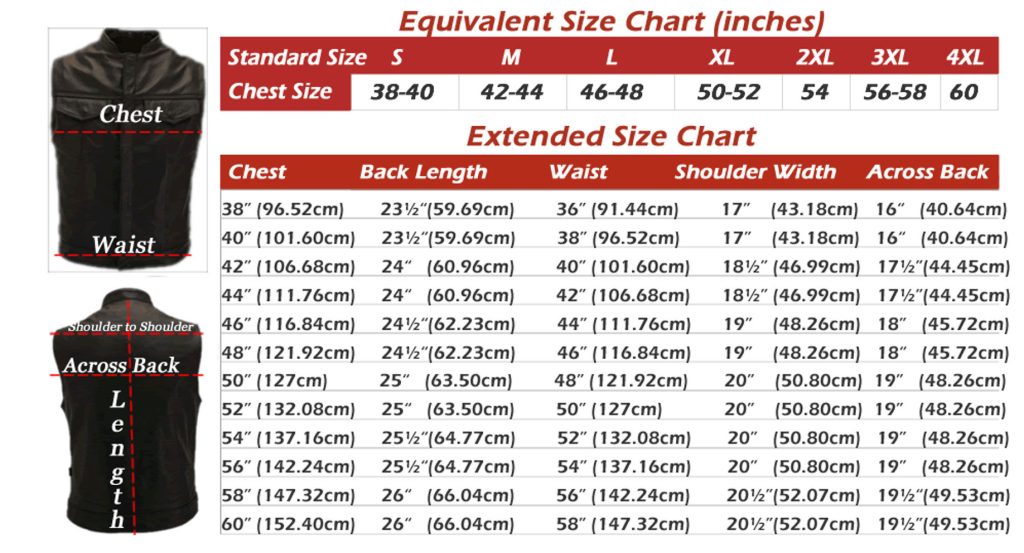 The leather vest should be just large enough to fit over your flannel shirt or other knitwear, but not any larger. Your leather vest size is determined by two critical factors: your height and waist circumference.  You can determine your leather vest size from the leather vest size chart below if you know your height and waist circumference.
Step 1: Measure back length
To best determine leather vest size for you, measure your back length first. When measuring your back length, stand with your arms at your sides and bend slightly forward so that your torso is in a straight line.  Your leather vest size should be about a half to three-quarters of an inch longer than what this measurement reads, so if you have a 28″ long torso standing upright, but bend over, leather vest size small would fit you best.
Step 2: Determine Your Waist Circumference
To best determine leather vest size for you, measure your waist circumference next. Using a flexible tape or cloth measuring tape, wrap the tape around your natural waistline and pull it just tight enough to stay in place of its own accord without cutting off any circulation.
Step 3: Determine your Shoulder width
The next step is to measure the width of your shoulder. Place the leather vest flat on a hard surface and measure the distance between leather vest shoulder seams.
Step 4: Measure across your chest
Another important measurement for a leather vest is to measure vest width across your chest. Place the leather vest flat against your chest and connect the leather vest shoulder seams, leaving two fingers between the vest and your neck to allow for personal comfort.
Step 5: Measure across back from
Measure leather vest width across back from leather vest shoulder seam to leather vest shoulder seam. This should help you determine how snug your vest is going to be. Ideally, you don't want it to be too tight at the back or too loose.
How to Tell if Your Leather Vest Fits
Take your measurements over what you normally wear when riding for the most accurate fit. By loosening the laces on a leather vest, you may wear heavier apparel.  If you want a vest with solid sides and are unsure of your measurements, try wearing your heaviest clothing while taking them. Tying the laces tight many individuals prefer a snug fit. Others like their laces open. There's no right or wrong answer to this
It's important to note that leather vests will break in over time, making it easier for you to zip up your leather vest with time. Most leather vests have a leather belt to adjust the size of the leather vest size if it is too big.  When wearing a leather vest, there should be enough room for your arms and the leather vest itself to sit comfortably without squeezing your body or making any uncomfortable bulges.
If you wear leather vests for riding, make sure that the vest belt buckle does not dig into your stomach and that it doesn't press against your kidneys when you move your upper body.
In the leather vest size chart shown above, US sizes are given in both inches and centimeters. This leather vest size chart only applies to adult male vests.  You can check size availability in corresponding articles with information on what leather vests are made of, how to find leather vest size and where to buy leather vests.
Choosing the right-sized leather vest can be a difficult task. But, we hope we've helped you determine your size. The above size chart should guide you in choosing the best fit. However, the fit is never guaranteed unless you try it out yourself after taking the measurements.