So, a couple of weeks ago, The Boss called and told me that Bikers' Den was going to start carrying some of the Daytona Helmets line. I told him that was great, but I had a helmet and then he reminded me that part of my job is to make sure that you guys – our everyday readers and riders – know about new gear we're carrying.
Now, a few of you guys will remember that two years ago, some nitwit stole my helmet off my parked bike right in town in broad daylight. At the time, I decided to do a lot of research, since I'd been wearing the same helmet for years, and, since I was suddenly in the market, I had to do a ton of research on the helmets we offer.
I mean, why would I shop anywhere else? Now that Bikers' Den is carrying Daytona helmets, I'm in that same boat again.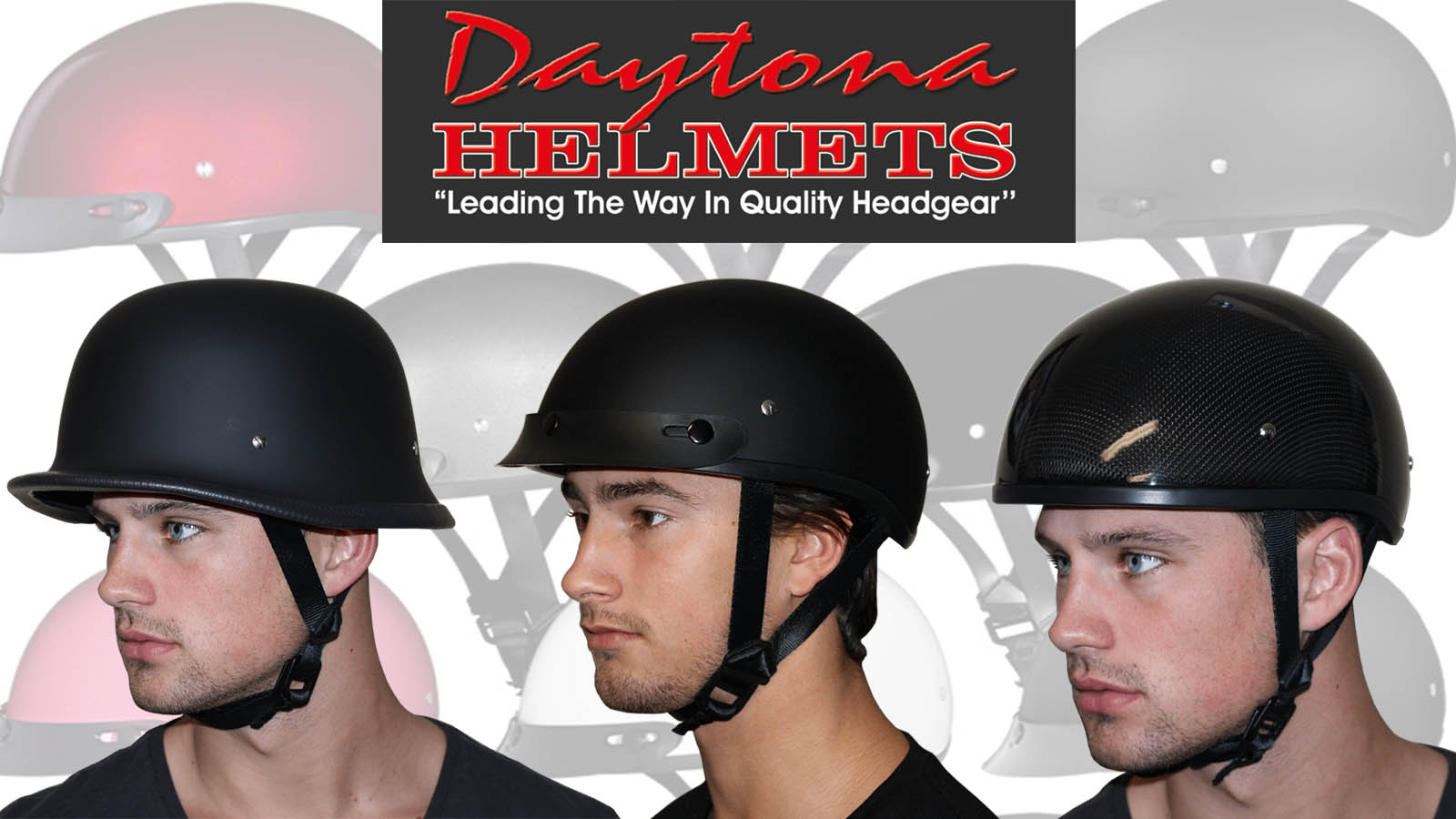 I really like the styles they've got out there, but what really gets me going was what I read that wasn't sales or advertising, it was what the men and women who survived accidents because of their Daytona helmet said about that helmet…
"Just wanted to say Thank you I've been wearing this helmet for 3 years – 3 weeks ago had a car hit me head on at 40 mph Flew thru the air 30 feet broke pelvis – hand -leg and alot of rash but no head injury Even though helmet is trash now it did the trick and saved my life along with alot help from the big man upstairs THANK YOU!!
"Yesterday I had a low side accident at 55mph. The only thing I remember is the back tire going out from under me and my head hitting the ground. I was released from ER 4 hours later after a brain scan. I came out of it with only some road rash on my leg. I'll be ordering another one. Thank you!"
"I wanted to thank you for making a great helmet. I had to lay my motorcycle down in heavy traffic to avoid an accident . Walked away with road rash, dislocated shoulder and a lot of soreness. I banged my head on the pavement so hard it bounced and tore the helmet up. I was wearing a Daytona Cruiser 1/2 helmet with pull down visor. There is no doubt it saved me from serious injury or death. Thank you for a great product."
And I found comment after comment like these, all over the web.
What does that tell me? Number one, Daytona builds a hell of a helmet. Number two, they put a lot of thought into the design of each one of their lids to make sure that every rider has every opportunity to walk away from what could have been a lethal encounter.
As with any helmet we sell on the site, Daytona's helmets – from beanies to Polos – are all DOT certified and, I've found, really light weight. In all my searching, I also couldn't find anyone complaining about lift at highway speeds or mushroom head.
One last thing that I really like about these helmets is that Daytona took the time to design three different sizes of shell to accommodate all the different sizes of head out there. In this way, everything is scaled properly, no matter how big your noggin is.
The bottom line is this – if you're in the market for a new lid, Daytona is building some really nice ones that won't cost you an arm and a leg and offer a level of safety and comfort that a lot of helmets out there can't achieve. I don't work "for" anyone anymore, but it's nice to work "with" folks who think that safety and value can be in the same sentence as style and good looks.
Check out the new Daytona Helmets page right here… and keep the shiny side up!